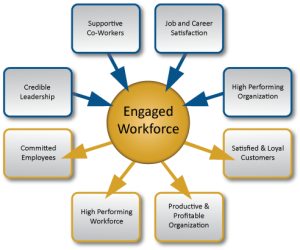 Unleashing the energy and talent of people in the workplace and engaging employees more fully in their work is a critical challenge facing organizations. Engagement is particularly important today due to morale problems, lack of harmonious relations between employees and managers, lack of career development opportunities, and organizational reputation.
If a business is to succeed and remain competitive in today's corporate landscape, it is essential to keep their employees engaged.
But some contend if it is even possible to achieve employee engagement in a hierarchical organization where leadership dominates. Still, others believe that engagement is a manipulative management technique to squeeze more out of an overworked and understaffed workforce. Clearly, engagement is not a simple matter.
According to recent research conducted by Towers Watson, a leading global professional services company that helps organizations improve performance through effective people, risk and financial management, only a small percentage of employees are actively engaged. In fact, research suggests there has been a considerable decline in engagement over the last several years.
But, what exactly is employee engagement? Employee engagement refers to the emotional commitment an employee has to their organization and its goals, their job, and their colleagues.
Oftentimes, employee engagement is confused with employee satisfaction because the concepts are similar, so the terms are often used interchangeably. Employee satisfaction is an attitude where employees are happy or content with their jobs and work environment. However, engaged employees are passionate about their jobs and are committed to the organization and its goals. Just because an employee is satisfied doesn't necessarily mean they are engaged.
When I worked at Signet Bank (Union Trust) in the 1980s, I was proud to be working there. The company wasn't perfect, but it took care of us. Later I had the same commitment and passion during my years at Union Memorial Hospital, and then again at LifeBridge Health. Yes, sometimes management issues got in the way, but it was always my ability to contribute and make a difference, innovate, and enjoy the people who made me happy, which got me engaged.
How is employee engagement measured? Employee engagement is typically measured using an employee engagement survey that has been developed specifically for this purpose. These surveys must be statistically validated and benchmarked to measure your employee's level of engagement.
One such survey, the Gallup Q12, was designed to measure employee engagement to worker productivity, customer loyalty, and sales growth. Twelve survey questions were chosen ranging from topics including basic needs, management support, team work, and growth. The answers were used to categorize employees into three areas:
Engaged—employees who love their jobs and feel a connection to their company. Actively engaged employees demonstrate high levels of performance, a drive for innovation and efficiency, commitment to their roles and to the organization as a whole, and high-energy enthusiasm.
Disengaged—employees who do as little as possible just to get by. Disengaged employees view their jobs as an exchange of time for a paycheck. They complete their tasks, but they do so unenthusiastically and put in little to no additional effort.
Actively Disengaged—employees who are not only unhappy with their job but they have a bad attitude and are damaging to the workplace. They are actively negative and voice their displeasure in the work place. Their negativity permeates the job place and often undermines the performance of other employees.
The benefits of an engaged workforce are clear. Research has shown that organizations with engaged and committed employees are significantly more productive than those where employees are disengaged. Employee retention rates are also considerably higher. A Towers Watson study found that companies with more engaged employees produce greater financial returns.
Our organization regularly takes employee satisfaction surveys. In order to get some anecdotal feedback, I raised the question of employee satisfaction surveys with some of my coworkers. My question seem to strike a raw nerve with many of my coworkers because they felt the surveys are not anonymous since very specific demographic questions are asked about each employee. Any negative feedback brought forth could mean fear of reprisal.   Further, one would have to look at the validity and reliability of feedback methodology.
How can leaders effectively engage their employees? Following are several tips that can stimulate employee engagement:
Provide Clear Direction: Leadership needs to know where the company is going and how employees can help it get there. This is where a mission and core values come in. Change often fails because of the lack of clear and credible communication. Management cannot and should not expect employees who lack awareness and understanding of corporate strategy to become committed to carrying out the organization's policy.
Communication: Once the strategy is in place, the leaders need to communicate and reinforce the overarching message among all employees. Each employee should know how he or she can contribute. Leaders and professional communicators can help by aligning words with actions, building relationships, and conversing with employees rather than communicating at them.
Employee Development: Organizations should offer training to employees to help them advance in their careers.
Supportive Managers: Managers must give their employees clear goals, offer feedback, and have an open door policy.
In conclusion, engagement requires a sustained effort from everyone. Organizations must carefully identify the causes of disengagement through data gathering and surveys then address these issues with a clear strategy in mind.