The Misconception About Being "Downsized" or "Let Go"
In the last four years, my career has taken some unexpected turns. First, the hospital where I worked for years needed to become as lean as possible given that the healthcare industry was undergoing major changes. The uncertainty of how healthcare reform would affect our industry, including how hospitals would be paid for their services, called for conservative measures. Our department, along with many others, was streamlined in anticipation of this trend. I was "downsized" or "let go" as were many others in the organization. I was out of work for seven months.
After I lost my job, I went through an outplacement agency. Unbeknownst to me, the outplacement agency sent my resume to an outpatient facility dedicated to treating patients with opioid addiction and substance abuse. One of the job responsibilities was to detox patients for their inability to pay. I was so worried about never getting hired again that I felt I had to take the job. At the time, I was in school pursuing a degree in communications, so eight months later I decided to leave the job to pursue other possibilities within my chosen career field.
I was so happy to receive a job offer where I would be gaining experience in my chosen field. During my interview, I was informed that the company was going through a rebranding and a Board restructure. Six months later, it happened again. I was let go, along with many others, as part of the restructuring process.
It took me 11 months to find my next job. During that time, I focused my efforts on doing an internship in marketing and communications and taking classes to enhance my current degree.
Once again, worried about never getting hired, I took the first job offer. The company was not quite the right fit for my long-term goals and there were no opportunities for advancement. After six months, I left for what I thought was a better opportunity.
"Let Go" Not Once, Not Twice…But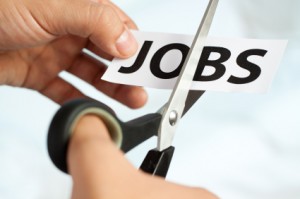 Two weeks after I was lured away from a secure job, I was informed by my new employer that the company had been sold and my job eliminated. I was devastated.
I've now been looking for work for seven months.
After the first two layoffs, I was confident that my long time excellent work reputation and continuing determination to find the right position would serve me well.
Millions of people have been let go.
Today, it's the norm for employers to regularly restructure to keep their staff lean and mean. Layoffs are never going away.
From what I have seen, companies are hiring more contract workers. Contractors are here to stay. Why? Essentially, companies no longer feel they have the ability to offer long-term, full-time jobs. Full-time employees are very expensive, or many companies have implemented hiring freezes; however, they still need experienced people to perform the work. Also, contractors can cost less in terms of fully loaded costs as companies are not required to pay for benefits like vacations, sick leave, or medical insurance. Even if the contractors are higher priced on an hourly basis, it might be less expensive for the company to hire them for a project or limited time.
I feel that stable employment may be a thing of the past. Furthermore, as long as employers have the power with the "at will" state law to terminate employment, there will always be many unjustifiably terminated employees.