How to Start a Free WordPress.com Blog
You asked, I listened, and now it's here! Starting a blog is easy, and I will show you how.
New to blogging but short on cash? No worries. WordPress.com is the most popular platform that is powerful and interactive and makes it easy for non-technical people to publish blogs and best of all it's free. At first, you might find WordPress a little overwhelming, but rest assured it's actually pretty easy. With WordPress.com you can rapidly create a new blog entirely for free, with a reasonable amount of customization. If you can use create a Microsoft Word document, then you shouldn't have any difficulty using WordPress.
So let's get started.
Setting up an Account
Creating an account is a fairly easy process and can be done in five simple steps.
Open your browser and type in www.wordpress.com in the address window. Once you are there, click on the Create Website button.
After you click on the Create Website button, WordPress will ask for you to choose a theme. It's probably best to skip this section and choose a theme later. The theme dictates what the site looks like and how it behaves. Reviewing themes and ultimately selecting one is one of the most time consuming and challenging aspects of building a website. I remember agonizing for weeks until I found the perfect theme with the look and feel that I wanted to achieve that also fit my personality and personal branding. In many of my classes, I have been taught that sometimes less is more!
Next you will be directed to another page where you will choose a domain name, which is a unique name that will identify your website. If the domain name is already in use, you will need to choose another site address. Your address will be domain.wordpress.com. If you prefer, you can pay a small amount for a standard domain name without the "wordpress" in the address. Once you choose your domain name, it cannot be changed, so choose carefully!
The next screen will ask you to select a plan that's right for you. There are three plans to choose from.
Step 4 will create and activate your account. You will be asked to add an email address. WordPress will use this to identify your account. Next you will choose a username. Like the domain name, your username must also be unique, so you will need to keep selecting a name until WordPress accepts your choice.
Next, pick a password, and make sure that no one else can guess it.
Once the registration is complete, WordPress will send an e-mail confirmation to the account that you registered with. When you click the Confirm button, go back to your browser and you will see a Thank You for Signing up with WordPress.com screen.
Now that you're done registering your account, you will want to become acquainted with the WP Admin area and the Dashboard to learn how the site works.
How to Avoid the "Beep-Beep-Boop"!
Sometimes WordPress makes unnecessary and irritating changes like the Beep Beep Boop. The problem with the Beep Beep Boop is that a lot of people wonder why there is need for changes for something that worked like a charm in the first place.
If you log into your site through WordPress.com rather than your administration area directly you'll like reach the dreaded "Beep Beep Boop"screen. To eliminate the Beep Beep Boop weirdness, you need to use the traditional WordPress administration area to create and maintain blogs or your website.
To access the traditional site we will create a page called wp-admin.
http://yourblogname.wordpress.com/wp-admin
You will want to bookmark this address in your browser and create a shortcut to the site on your computer desktop.
Touring the Dashboard
The WordPress Dashboard has three parts: the front end, the database, and the administrative area.
The front end are the pages that the public can see
The database contains the site's content
The administrative area is known as the back end. This is the area where you will be spending most of your time adding and editing content.
The WordPress Dashboard allows you to control all of the behind-the-scene details of managing your site. Once you find your way around the dashboard, you'll realize it's really easy to use and navigate.
The main menu items include:

Dashboard: receive updates and statistics regarding your website
Posts: create and manage the posts on your blog as well the tags and categories
Pages: create and manage pages on your site
Media: manage the media content library for things like images, video and audio
Comments: used to manage your visitor's feedback
Appearance: used to choose your theme, set up widgets, create custom navigation and more
Users: allows you to manage and view all of your site's users
Settings: allows you to set up the basic functions
Setting up the basic functions
Now it's time to set up some of the basic functions such as site title, tagline, date, time, and language. This can be configured by going into the Settings, General menu. The basic functions are self-explanatory.
Choosing a Theme
Next we will add a theme to our website. The theme will dictate the look and feel of your site. The theme has to be not only aesthetically pleasing but it should be clean and intuitive to use as well. WordPress offers many free themes that are beautiful and user friendly.
On the WordPress menu, click Appearance to open the Themes screen to choose from the many that WordPress has to offer.
Logging In
To start, you will need to login to your site. Go to http://www.yoursite.com/wp-admin to bring up the login screen (replace "yoursite.com" with your domain name).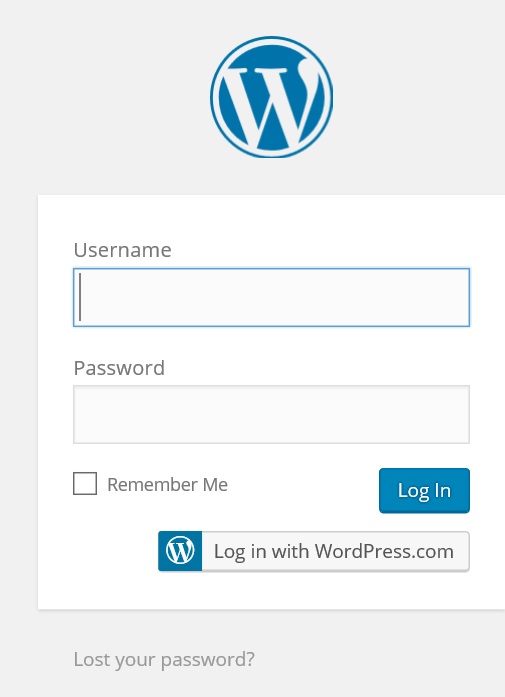 How to Write a Post
A blog is a specific type of website featuring time sensitive entries. It is typically arranged in order, from the most recent post at the top of the page to older posts as you scroll down the page. You can find blogs on virtually any topic, from photography to travel or even cooking. Even businesses have corporate blogs to facilitate communication in a company or for marketing new products and services or building the company's web presence.
Since blogging is all about writing, let's learn how to write your first blog post.
Go to the left menu and click on "Posts".
You will see there is already a post entitled, "Hello world!" This is a default post on every new WordPress blog, and we don't need it. To delete it click "Trash" just under the post.

You should now be on the post creator screen. Enter the title of your post in the top box and now it's time to enter content. You can begin by either typing inside the text box or pasting text you've previously written and saved in Microsoft Word. If you have previously written content, select it by highlighting it with your mouse, then copy and paste it into the text box on the Add New Post page.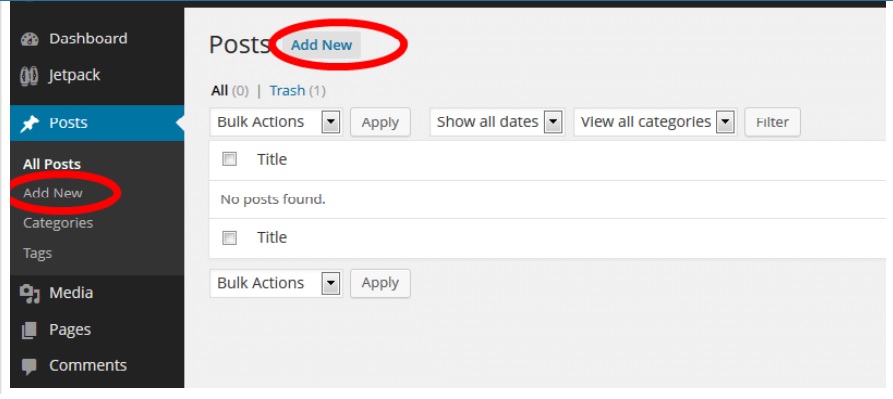 If you would like to add a picture to your post, click on the "Add Media" button and click "Select Files" to upload a picture from your computer. You can make adjustments to the picture size and alignment on the next screen. When you are all set click "Insert into post" to add the picture.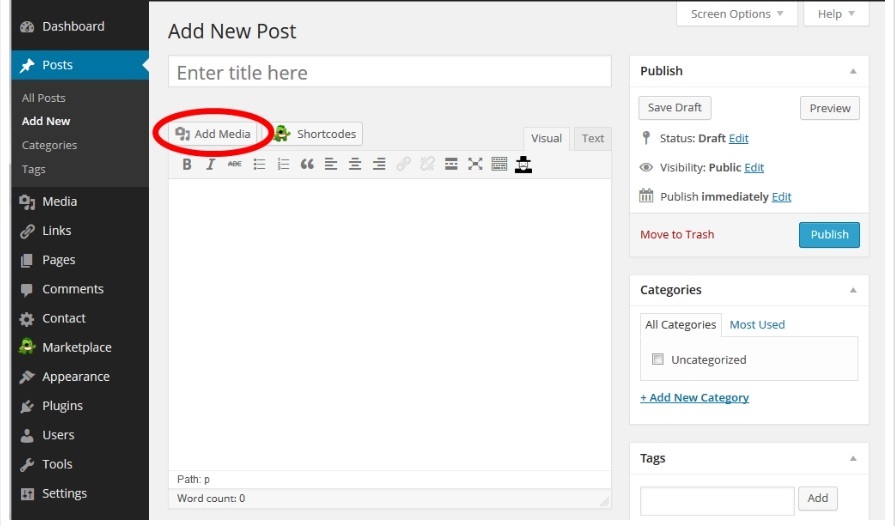 Once you have finished your post just click the "Publish" button on the right side of the screen to publish it.
Publishing Your Blog
Even after you have written a post your blog may still be showing a "Coming Soon" page like this: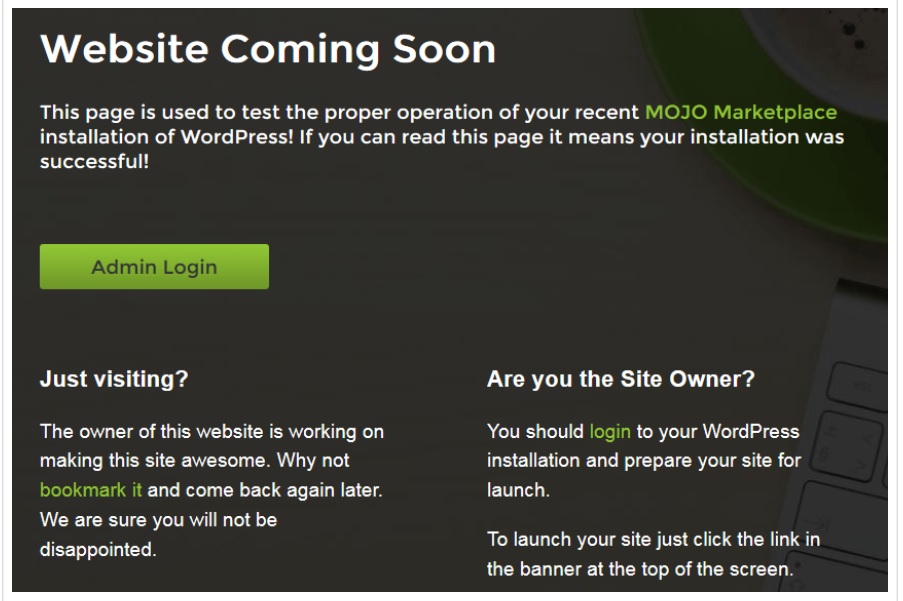 When you are ready to remove that page, you can do so by logging-in to your blog and clicking the link near the top.
Congratulations! Now you know the basics of how to publish content on your site! Good luck with your websites.